Homes in Castle Rock, Colorado
Castle Rock includes several breweries and restaurants, and at the Castle Pines North community, residents appreciate a variety of homes in nicely designed neighborhoods providing a special lifestyle that is among the most inviting in Colorado, not to mention gorgeous "forever" homes that fulfill nearly every conceivable need and desire.

Castle Pines North offers beautiful tree-lined streets, 352 acres of open space, and 14 miles of trails. Elk Ridge Park and the Rueter-Hess Reservoir are also located within the community.
List of Zipcodes
| Zip Code | Zip Code Name | Zip Code Population |
| --- | --- | --- |
| 80104 | Castle Rock | 34,010 |
| 80108 | Castle Pines | 30,595 |
| 80109 | Castle Rock | 28,767 |
Demographics
| | Zip Code | City | County | State | National |
| --- | --- | --- | --- | --- | --- |
| Population | 4,270 | 69,290 | 351,154 | 5,759,582 | 331,426,769 |
| Population Density | 49.4 | 2,023.5 | 1,167.0 | 55.5 | 93.8 |
| Percent Male | 49.0% | 50.0% | 50.0% | 49.0% | 49.0% |
| Percent Female | 51.0% | 50.0% | 50.0% | 51.0% | 51.0% |
| Median Age | 50.8 | 37.7 | 41.0 | 40.2 | 39.0 |
| People per Household | 2.6 | 2.9 | 2.9 | 2.8 | 2.6 |
| Median Household Income | $106,904 | $104,759 | $114,156 | $115,942 | $61,963 |
| Average Income per Capital | $52,013 | $43,037 | $61,155 | $50,725 | $33,235 |
Market Data
| | Zip Code | City | County | State | National |
| --- | --- | --- | --- | --- | --- |
| Median Sale Price | $725,000 | $490,750 | $550,500 | $425,100 | $277,796 |
| Median Age of Home | 37.0 | 29.0 | 33.0 | 39.0 | 49.0 |
| Homes Owned | 86.0% | 75.0% | 77.0% | 67.0% | 58.0% |
| Homes Rented | 10.0% | 21.0% | 18.0% | 23.0% | 31.0% |
| Homes Vacant | 5.0% | 5.0% | 4.0% | 4.0% | 11.0% |
Market Trend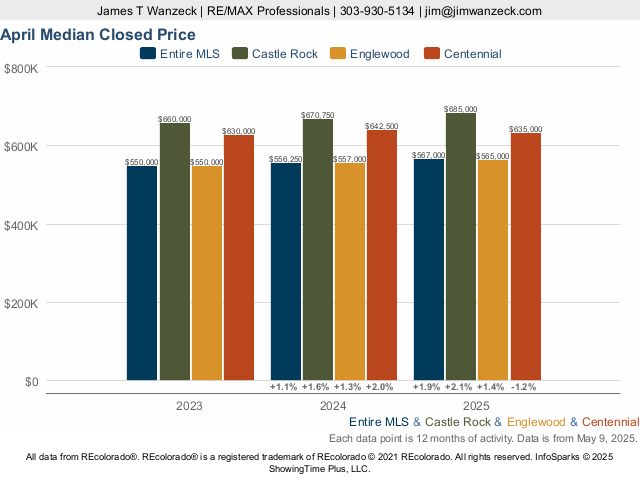 326 properties on market
Contact Us
RE/MAX Professionals
6020 Greenwood Plaza Boulevard
Greenwood Village, CO 80111, USA
Valuation Index
Quality of Life - 90%
Climate & Environment - 75%
Schools & Education - 73%
Safety & Crime - 17%
Quality of Life
| | Zip Code | City | County | State | National |
| --- | --- | --- | --- | --- | --- |
| Cost of Living Index | 110.0 | 116.0 | 116.0 | 110.0 | 100.0 |
| Health Cost Index | 121.0 | 125.0 | 124.0 | 119.0 | 100.0 |
| Commute Time | 25.0 | 28.0 | 27.0 | 25.0 | 24.8 |
| Commuting by Bus | 0% | 1.0% | 2.0% | 1.2% | 2.1% |
| Commuting by Carpool | 7.0% | 10.0% | 8.0% | 11.0% | 13.5% |
| Commuting by Auto | 76.0% | 83.0% | 83.0% | 80.0% | 79.1% |
| Working at Home | 16.0% | 7.0% | 7.0% | 5.2% | 4.7% |
Walk Score®
Schools & Education
Safety & Crime
Zip Code
City
County
State
National

Violent Crimes

Calculated annually per 100,000 residents

Assault
162.9
146.3
69.5
246.3
250.2
Murder
2.2
2.2
2.2
3.8
5.0
Rape
70.4
67.9
33.6
67.2
42.6
Robbery
123.3
57.3
19.2
63.6
81.6

Property Crimes

Calculated annually per 100,000 residents

Burglary
223.7
204.5
230.1
348.4
340.5
Theft
360.4
763.7
1,794.6
1,858.3
1,549.5
Motor Vehicle Theft
603.0
601.2
88.7
384.0
219.9
Take a photo of this QR code
to keep this website details